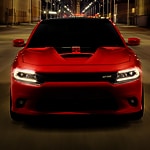 Words can't fully describe just how wonderful the Dodge Charger truly is, but words can provide in-depth information for what consumers can expect. The new Charger is a popular mid-size sedan that's packed with power. Exceptional styling is available as well as interior comfort.
This four-door beast starts out by offering seating for at least five persons. The interior of the Dodge Charger is very modern, and it's based on performance. Dodge will even offer sport and performance-inspired seats. Consumers can expect electric-power steering on all models. There are at least three driver-selectable steering modes to choose from. This sedan goes on to offer a leather-wrapped steering wheel that's heated as well as Push Button Start. You can feel the comfort of the heated/ventilated front seats. There's also cloth and leather upholsteries.
Get your money's worth by visiting our dealership today. We will also throw in a free test drive.