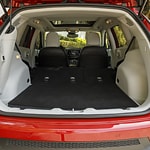 Much of the new Jeep Compass's popularity can be owed to its innovative interior features. These features make the Compass not only fun to drive. They also cater to your every driving need on the road today.
For example, consider the new Compass's dual-zone climate control system. This system allows the front and back row occupants to control their own comfort level. The people in the back can set the climate control system at a different temperature than that of the front seat occupants.
The new Jeep Compass also comes with a heated and leather padded steering wheel. When you drive this compact SUV on a cold winter day, you no longer have to grip a hard steering wheel that is freezing cold.
Even the front seats are heated for your comfort. You can use the heat function to keep warm or to prevent your back from aching while driving.